Description
Procharger 2021-2015 CHALLENGER R/T (5.7) Supercharger Kit
BOLT ON 160+ MORE HORSEPOWER TO YOUR 5.7 HEMI
ProCharger was the first manufacturer to offer complete supercharger systems for 6.1L and 5.7L HEMI's back in 2007. Once again Procharger leads the industry for 2015+ 5.7L R/T Dodge Challengers with an all new robust bracket system and new modification to the intercooler system with revised tubing for an even simpler installation. Our proven Intercooled ProCharger Systems and Tuner Kits for 5.7L HEMI's produce a gain of 160+ HP with only 7 psi on otherwise stock engines running premium pump gas.
Intercooled ProCharger Systems provide the coolest charge air temperatures, largest power gains and most repeatable performance available. ProCharger's 5.7L systems and tuner kits for Challengers and Chargers feature the industry standard P-1SC-1 ProCharger, with self-contained oiling that eliminates the need for external oil lines or the need to tap into the engine's oil supply. This kit features highly effective and reliable air-to-air intercooling (3 core intercooler is standard), and your choice of supercharger and bracket finishes: satin, polished, or our new black finish.
| Description | Hp Gain | Max Boost | Intercooler | PART # | EO # |
| --- | --- | --- | --- | --- | --- |
| HO Intercooled System with P-1SC-1 supercharger | 160+ | 7 psi | 3 core | 1DF615-SCI | D-365-26 |
| HO Tuner Kit with P-1SC-1 supercharger | specify | specify | 3 core | 1DF605-SCI | – |
Tuner Kits: These kits make sense for someone wanting to perform custom tuning of the car and push the envelope in performance.  Will most likely be experimenting with alternative fuels such as 93 octane, race fuel, E85 fuel, and methanol supplemental fuel.  In addition, possibly changing engine components like heads, headers, exhaust, and cams for the engine. No tuning or fuel components provided.
Want to learn about HO vs. Stage II, Tuner Kits vs. Systems, Intercooling tech and much more? Click the button below to visit the ProCharger 101 page.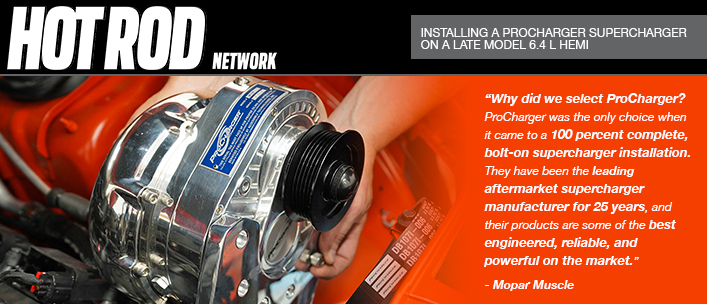 Mopar Muscle magazine recently completed a ProCharger install on a late model Challenger.  Click here to read the full article.
VERY IMPORTANT
NOTE: All Chrysler/Dodge vehicles 2015 and newer have locked Powertrain Control Module (PCM) computers and they require an unlocking process in order to install a new tune.  Please click on link here for more details. The PCM must be shipped to Diablosport for unlocking so, please allow roughly one week. Another option is to purchase a second PCM directly from Diablosport ahead of the installation so, there is no downtime.  It is an unfortunate hassle, but unlocking is required with any tuning modification to Chrysler/Dodge vehicles.
"Assuming you have your tools laid out and dive right in, you could be up and running with over 500 hp … Just try and tell us that doesn't sound appealing." -GearzTV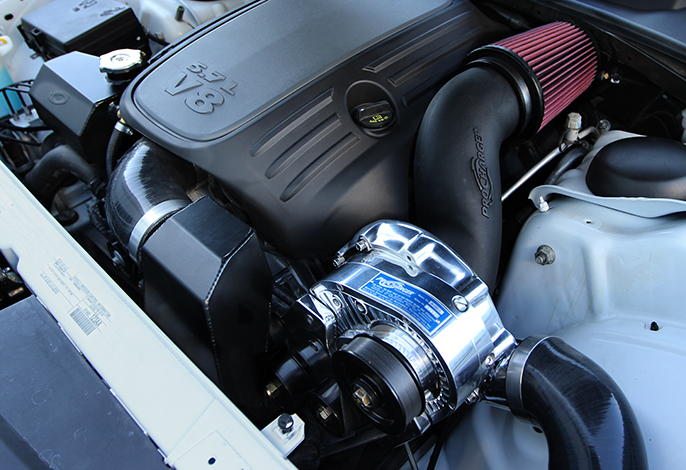 LARGEST AND MOST RELIABLE POWER GAINS FOR HEMI ENGINES
For over a decade ProCharger supercharger systems have delivered the largest and most reliable power gains for the HEMI engine platforms. Power gains of over 160 HP are possible on standard high quality pump gas for stock 5.7L HEMI engines. We have also improved on our air-to-air intercoolers for the HEMI/DCX platforms with an all-new cooling system. These cooling systems have even more free flowing tubing arrangements and less couplers than before making the cooling process more efficient to install (below is a diagram of our intercooler system). Our supercharger systems are designed to be easy enough to install in the home garage with an OEM fit. The installation requires no permanent changes to the automobile allowing the owner to retain resale value if they choose to remove the system before sale. For those not installing the system themselves, ProCharger also has a vast network of installing dealers across the US to get your installation handled.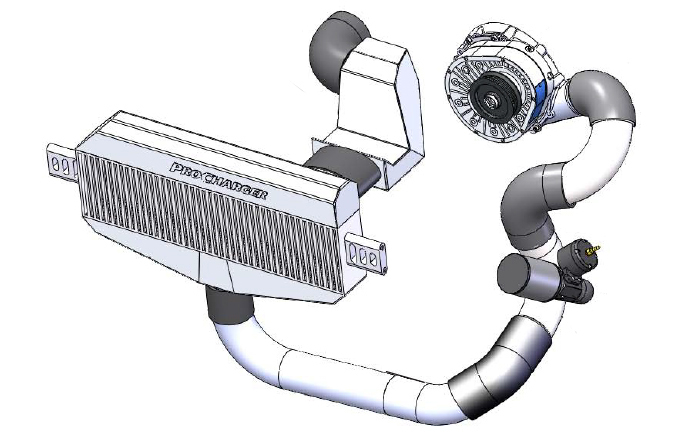 2015-2021 CHALLENGER 5.7L OPTIONS & UPGRADES
• Satin, Polished, or Black supercharger and bracket finish
• Helical Gearset for noise reduction (P-1SC-1 and D-1SC only)
• Tuner Kits allow for D-1SC up to F-1A-94 upgrades
• Race Intercooler upgrade (from HO intercooler)
• Race Bypass Valve upgrade available
• Black Race Intercooler
• P-1X and D-1X upgrades